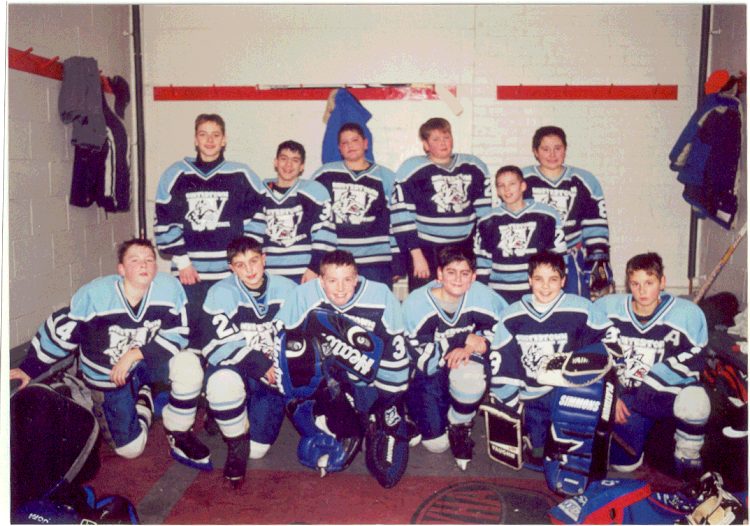 Whitestown PeeWee UNYHL Team
2000-2001 Game Schedule and Scores
Final Update 3/18/01
(All scores and shots unofficial)
---
Welcome to the 2000-2001 Whitestown PeeWee "B" (UNYHL) team. The Upstate New York Hockey League was formed when most of the organizations in our area that skated 3 teams at each level "tiered", or graded the teams at each level as to A, B or C level players. This system gave the midrange skaters some good competition, that wasn't quite up to the state tournament-bound (or travel) level, but was above the recreational skater, or kids with not quite as much skating experience. This system, although not perfect, seemed to work well last year, but much needs to be improved on...
This is Anthony's first year of physical contact (checking). Most of the skaters on the team are also first year PeeWees, as is much of the competition at this level. The team is made up of 2 goalies, and 11 skaters. This will be a long year, says Mom.....
Anthony's coach again is Bill Robertello. Bill worked with some of these same kids 2 years ago at the Squirt level. Keep watching this page for game schedules and updates.
---
(Whitestown listed first)
Date
Time
Team
Location
Score
Shots
Oct 8
12n
New Hartford (Kelly)
New Hartford
L 4-11
23-41












Oct 14
1:00p
New Hartford (Luker)
home
W 5-2
28-20
Oct 15
10:30a
New Hartford (Luker)
New Hartford
L 4-7
24-29












Oct 21
1:00p
Ithaca (UNY)
home
W 7-3
22-14
Oct 22
10:15a
Ithaca (UNY)
Cornell (Lynah Rink)
L 4-5
26-12












Oct 28
1:00p
Rome A
home
L 5-10
20-25
Oct 29
10:15a
Schenectady
Schenectady County
T 3-3
40-14












Nov 4
1:00p
Skaneateles (UNY)
home
L 3-4
22-14
Nov 5
9:10a
Skaneateles (UNY)
Skaneateles
W 2-1
37-9












Nov 11
Whitestown "B" Tournament
Nov 12
Whitestown "B" Tournament












Nov 18
7:00p
Camillus (UNY)
Camillus
L 2-5
18-22
Nov 19
10:30a
Rome A
Rome
L 3-5
36-21












Nov 25
4:50p
Clifton Park
Clifton Park




Nov 26
10:10a
Watertown
Watertown
L 1-7
21-24












Dec 2
1:00p
Midstate (UNY)
home
L 1-6
17-26
Dec 3
10:00a
Adirondack
Glens Falls Rec Ctr
L 1-4
21-17












Dec 9
1:00p
Oswego (UNY)
home




Dec 9
1:00p
Schenectady
home
W 4-1
40-12
Dec 9
4:00p
Ithaca (UNY)
home
L 2-5
24-16
Dec 10






















Dec 16
1:00p
Adirondack
home
NO
SHOW
Dec 17
11:00a
Oswego (UNY)
Romney Field House
L 2-6
22-19












Dec 23
1:00p
Capital
home
L 0-9
11-33
Dec 24
No Home Ice












Dec 30
1:00p
Oswego (UNY)
home
L 4-8
32-26
Dec 31






















Jan 6
9:30a
Binghamton (UNY)
Grippen Park
L 0-3
20-45
Jan 6
2:30p
New Hartford (Luker)
home
L 3-8
22-21
Jan 7
11:00a
Fulton A
Fulton
L 1-3
12-36












Jan 13
No Home Ice
Jan 14
11:00a
Capital Youth B2
USA Rink, Airport
L 2-8
22-37












Jan 20
1:00p
Binghamton (UNY)
home
L 1-5
10-24
Jan 21
9:30a
Oswego
Fort rink
L 0-4
13-31
Jan 21
2:45p
Hamilton
SUNY Morrisville
W 7-2
37-24












Jan 27
1:00p
Schenectady
home
W 3-2
23-12
Jan 28
10:30a
Geneva A
Geneva
L 1-4














Feb 3
1:00p
Rome B
home
W 7-1
36-8
Feb 4
6:00p
Midstate
Coliseum
L 1-2
22-30












Feb 10
12:40p
Camillus
home
L 2-5
31-26












Feb 17
Oswego MidWinter Tournament
Feb 18
Oswego MidWinter Tournament












Feb 24










Feb 25






















Mar 3
8:45a
Camillus
Shove Park
L 3-7
33-26
Mar 4
12:00n
New Hartford(Kelly)
New Hartford
T 4-4
32-21












Mar 9
UNY Championships, Ithaca
Mar 10
UNY Championships, Ithaca
Mar 11
UNY Championships, Ithaca

























Tournaments

Whitestown "B" Tournament
Whitestown, NY
Nov 10-12, 2000
Nov 10
6:45p
New Hartford
L 0-4
15-17
Nov 11
11:00a
Midstate
T 3-3
22-22
Nov 11
6:15p
Capital
W 5-1
28-8
Nov 12
9:00a
Capital
T 2-2
(Lost Shootout)
21-15

Oswego Mid Winter Classic
Oswego, NY
February 16-18, 2001
Fri, Feb 16
4:30p
Oswego (@ Fort)
L 3-4
11-39
Sat, Feb 17
2:00p
Camillus (@ Romney)
L 0-3
22-15
Sun, Feb 18
9:30a
Perinton (@ Romney)
T 3-3
11-39

UNY PeeWee Championships
Ithaca, NY
March 9-11, 2001
Fri, Mar 9
3:00p
Skaneateles
W 15-2
64-20
Sat, Mar 10
8:00a
Ithaca
W 5-3
31-21
Sat, Mar 10
4:00p
Oswego
L 0-4
8-32
Crossover Game
Sun, Mar 11
10:00a
Camillus
W 4-2
23-33
Championship Game
Sun, Mar 11
4:00p
Midstate
L 2-3
29-27
Upstate New York Hockey League
2nd Place

What an amazing season.....These kids played with a lot of heart, and a short bench...most of the time we only had 10-11 skaters and two goalies.

But when it came to the championships, the kids really stepped it up. After being beat up by all the other teams in the league, it was finally their turn !!

After a decisive first game, the team played strong, and managed to capture second place in the championships. No one gave them a chance, but they proved that the team that WANTS it the most can GET it, on any given day.....

Final Results:
Won 11
Lost 29
Tied 5