Whitestown Bantam B Team
2001-2002 Game Schedule and Scores
Last Update 3/3/02 (All scores and shots unofficial)
---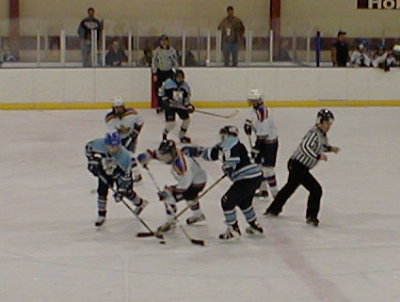 Anthony had a late start skating this year. He had toe surgery in July to remove a bone spur under his toenail, and we weren't sure if he was going to be able to skate at all this year.
Registration and tryouts passed, and Anthony still was recuperating. The Whitestown board then decided on 2 PeeWee teams, rostering 20 and 19 players respectively, and the decision was made for us. We had seen what happens when a team rosters so many players before both in Rome and in Watertown, and we had regretfully decided to sit the year out in Whitestown, and we were starting to look at other organizations.
Then, when talking to the Bantam 2 coaches at Whitestown one night, we saw that they could use an extra player at that level. Anthony and I asked if they would like us to propose that he skate up one level, and the board said that he could, if he passed the tryout. He then had a tryout at a PeeWee practice one night, and it was determined that he could skate up with the Bantam 2 team.
Several of the players were on Anthony's team last year, and he seemed to fit right in. The coaches are great, the parents are again an excellent group, and Anthony is pleased to continue his Whitestown skating career.
Keep watching this page for updates, and also visit our "official" team page at:
Whitestown Youth Hockey and click on "Teams", then on "Bantam 2"
---
(Whitestown listed first)
| Date | Time | Team | Location | Score | Shots |
| --- | --- | --- | --- | --- | --- |
| | | | | | |
| Sat, Nov 17 | 9:30a | Fulton | Fulton | W 2-1 | 28-26 |
| Sun, Nov 18 | 11:30a | Capital | B.I.G. Arena, Bethlehem | L 5-6 | 22-32 |
| | | | | | |
| Sat, Dec 1 | 1:00p | Ithaca | The Rink | L 2-10 | 8-48 |
| Sat, Dec 8 | 2:30p | Clinton | home | L 3-7 | 25-45 |
| Sat, Dec 8 | 6:30p | Clinton | Clinton | L 0-4 | 8-37 |
| Sat, Dec 15 | 2:30p | Ithaca | home | L 0-6 | 16-36 |
| Sun, Dec 16 | 1:30p | New Hartford | New Hartford | L 0-9 | 9-55 |
| Sat, Dec 22 | 11:30a | Midstate | home | L 0-6 | 13-60 |
| Sun, Dec 23 | 2:30p | Oswego 1 | Fort Ontario | wrong | time |
| Sat, Dec 29 | 2:30p | Auburn | home | no show | forfeit |
| Sun, Dec 30 | 2:30p | Oswego 2 | Fort Ontario | L 0-7 | 10-59 |
| | | | | | |
| Sat, Jan 5 | 2:30p | | | | |
| Sun, Jan 6 | 6:30p | Camillus | Shove Park | L 2-5 | 13-37 |
| Sat, Jan 19 | 2:30p | Elmira | home | L 2-4 | |
| Sat, Jan 26 | 2:30p | Skaneateles | home | | |
| Sun, Jan 27 | 6:15p | Lysander | Lysander | L 0-4 | |
| | | | | | |
| Sat, Feb 2 | 6:45p | Lysander | Lysander | 3-6 | 19-37 |
| Sun, Feb 3 | 12:30p | Skaneateles | Skaneateles | L 1-8 | 30-36 |
| Sat, Feb 9 | 2:30p | Lysander | home | L 2-7 | 12-32 |
| Sun, Feb 10 | 12:00n | Elmira | Elmira | L 2-7 | 16-37 |
| Sat, Feb 16 | 8:30a | Oswego 2 | home | | |
| Sat, Feb 16 | 2:30p | Salmon River | home | W 3-2 | 20-36 |
| Sat, Feb 23 | 2:30p | Camillus | home | L 3-8 | N/A |
| Sun, Feb 24 | 11:30a | Capital | B.I.G Rink | L 1-7 | N/A |
| | | | | | |
Tournaments
Fulton Tournament
Fulton, NY
Nov 24-25, 2001
Fri, Nov 23
11:10a
Camillus
L 0-3
18-36
Fri, Nov 23
6:35p
Auburn
L 1-9
16-58
Sat, Nov 24
3:15p
Fulton
W 4-1
N/A
Whitestown House Tournament
Whitestown, NY
Jan 10-13, 2002
Thu, Jan 10
7:30p
Cazenovia
L 3-4
27-27
Fri, Jan 11
6:30p
Perinton
L 3-10
12-51
Sat, Jan 12
11:00a
Rochester
L 3-8
20-32
Consolation Game
Sun Jan 13
10:30a
Cazenovia
L 3-4
19-20
John Abbott Memorial Tournament
Salmon River, NY
March 1-3, 2002
Fri, Mar 1
5:45p
Geneva
L 2-5
39-31
Sat, Mar 2
9:45a
Valley
L 2-5
34-26
Sat, Mar 2
1:15p
Camillus
L 1-7
13-56
Rochester Tournament
Rochester, NY
March 15-17, 2002
Fri, Mar 15








Sat, Mar 16








Sat, Mar 16