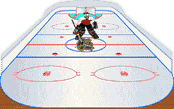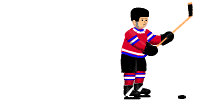 Whitestown Mite Travel Team
2001-2002 Game Schedule and Scores
Last Update 2/26/02 (All scores and shots unofficial)
---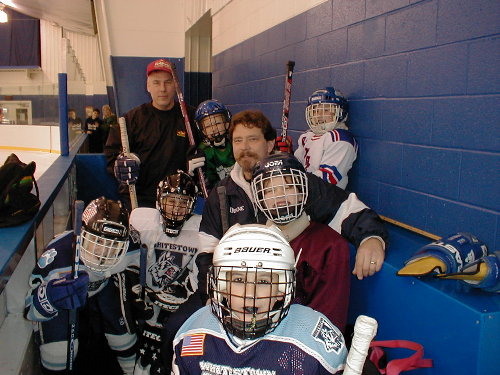 This is Tommy's last year of competitive skating at the Mite level. Next year he moves to the Squirt level.
The level of play this year has become more physical and much more competitive. We will see more contact, although there is no body checking allowed until the PeeWee level in a few more years. "Incidental contact" is allowed, which means that skaters frequently use their bodies to move the skaters off the puck.
Our coach again is Duane Isenberg, and he has many good assistants helping him on and off the ice. All the parents appreciate the time and effort that the coaches put in to have the kids have an enjoyable season. As always, we believe that the values and lessons that the kids learn here are lifelong lessons.
We again have an exceptional group of kids. They work well with each other, look out for each other, and respect themselves and others both on and off the ice. Along with an exceptional group of kids, we also have an exceptional group of parents. They are always positive, win or lose, are very supportive of the team, and provide all the little "extras" that help make this fun for a 7 month season.
New this year is a clickable link for selected games. Just click on the highlighted links for in-depth game summaries. Then use your browser's "back" button to return to the main page.
Keep watching this page for updates, and also visit our "official" team page at:
Whitestown Youth Hockey
A Mites
---
(Whitestown listed first)
Date
Time
Team
Location
Score
Shots












Sat, Oct 13
4:45p
Saratoga
Vernon Rink
L 1-7
5-23
Sun, Oct 21
7:30a
Lysander
home
L 0-5
6-9
Sun, Oct 28
7:30a
Cazenovia
home
L 1-4
4-14












Sat, Nov 2
10:00a
Lysander
Lysander
L 1-3
13-17
Sun, Nov 11
7:30a
New Hartford
home
W 3-1
14-9
Sat, Nov 17
8:30a
New Hartford
New Hartford
L 1-3
23-12
Sun, Nov 18
11:15a
Cazenovia
Morrisville
L 2-7
10-20
Sat, Nov 24
2:45p
Cazenovia
Morrisville
L 2-9
8-31
Sun, Nov 25
7:30a
Skaneateles
home
T 4-4
12-10
Nov 29-Dec 2, 2001
Whitestown Mite Tournament
Whitestown, NY












Fri, Dec 7
8-9P
Tommy makes guest appearance
with Lowville Squirt Team
Makes 2 Assists while playing left wing !!
Sat, Dec 8
10:00a
Cortland
Onondaga Nation Rink
W 4-1
25-13
Sun, Dec 9
7:30a
Utica
home
W 12-0
34-7
Sat, Dec 15
7:00a
Clinton
home
L 2-4
15-7
Sun, Dec 16
9:25a
Clinton
Clinton
W 5-3
21-7
Sat, Dec 22
3:45p
Rome
Rome
L 2-7
13-17
Sun, Dec 23
7:30a
Rome
home
L 0-7
5-17
Sun, Dec 23
12:00n
CNY Storm
Morrisville
W 5-3


Sat, Dec 29
8:00a
Midstate
Coliseum
W 7-1
16-13
Sun, Dec 30
7:30a
Midstate
home
W 3-1
16-5












Sat, Jan 5
10:00a
Troy
Hudson Valley
CC
L 3-7
14-25
Sun, Jan 6
7:30a
CNY Storm
home
W 9-0
30-2
Jan 18-Jan 20, 2002
Snowtown Tournament
Watertown, NY
Sun, Jan 27
3:30p
Troy
home
















Sat, Feb 2
8:25a
Clifton Park
Clifton Park
L 0-7
6-27
Sun, Feb 3
9:25a
Oswego
Fort Ontario
W 4-0
29-10
Sat, Feb 9
11:15a
Ithaca
Cass Park
L 2-6
9-18
Sun, Feb 10
7:30a
Camillus
home
L 2-4
13-15
Sat, Feb 16
1:30p
Lysander H
Lysander
W 10-0
33-6
Sun, Feb 17
7:30a
Lysander H
home
W 10-3
29-3
Feb 22-24, 2002
Little Caesar Mite Tournament
Oswego, NY












Sat, Mar 2
3:45p
Rome
Rome




Sun, Mar 3
7:30a
Clifton Park
home




March 8-10, 2002
Sam Pastore Pepsi Tournament
Buffalo, NY
Tournaments
Whitestown Mite Tournament
Whitestown, NY
November 29-December 2, 2001
Thu, Nov 29
6:00pm
New Hartford
L 3-9
15-15
Fri, Nov 30
6:15pm
Adirondack
T 2-2
10-14
Sat, Dec 1
5:15pm
Saratoga
L 1-8
6-25
Sun, Dec 2
9:00am
Rome
L 1-4
9-26
Snowtown Tournament
Watertown, NY
January 18-20, 2002
Fri, Jan 18
6:00pm
Watertown
W 8-0
28-2
Sat, Jan 19
7:10pm
Ottawa South End Capitals
T 1-1
9-7
Sun, Jan 20
10:20am
Rochester
W 8-1
36-2
Championship Game
Sun, Jan 20
2:00pm
Ottawa South End Capitals
L 0-4
5-12
Snowtown Tournament
Second Place
Little Caesar MiteTournament
Oswego, NY
Feb 22-24, 2002
Fri, Feb 22
5:40pm
Midstate
@ Kingsford
L 0-1
21-14
Sat, Feb 23
8:20am
Oswego
@ Fort Ontario
W 6-2
23-14
Sat, Feb 23
12:00n
Elmira
@ Kingsford
W 9-1
49-4
SemiFinal Game
Sun, Feb 24
10:45am
Ithaca
@Fort Ontario
L 1-3
12-17
Sam Pastore Pepsi Tournament
Buffalo, NY
Mar 7-9, 2002
Fri, Mar 7
1:40pm
Perinton Canadiens
W 5-1


Sat, Mar 8
2:00pm
Cheektowaga Warriors
W 9-0


Sun, Mar 9
11:45a
Perinton Sabres
T 0-0


Championship Game
Sun, Mar 9
3:00pm
Monroe Cty Eagles
W 6-1


Sam Pastore Pepsi Tournament Champions
New Hartford Invitational Mite Tournament
New Hartford, NY
Mar 14-17, 2002
Thu, Mar 14
7:15pm
New Hartford
W 4-2
30-7
Sat, Mar 16
12:00n
Binghamton
T 1-1
15-10
Sun, Mar 17
7:45a
Clinton
L 4-5
21-17
Sun, Mar 17
11:30a
Troy B
L 2-5
37-24