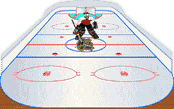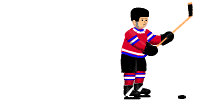 Whitestown C Mite Team
1999-2000 Game Schedule and Scores
Final Update 3/26/00 (All scores and shots unofficial)
---
Welcome to the 1999-2000 Whitestown C Mite team. This is Tommy's first year of competitive skating. Last year, he was in the Whitestown Learn to Skate program (D Mites). Most of this year's team are also moving up from D Mites with him.
One of the Squirt parents said recently, "You know, every parent ought to attend a C Mite game, just to be reminded what it's all about !!" Even though the skill level is relatively low, and the kids don't have a full understanding of the game yet, the look on their faces during the game say it all. This is hockey for the pure enjoyment of it all.
The scores are for the adults, but are immaterial. Any game could be a 0-0 tie, or a 20-0 blowout. The important thing is that they all have fun....
This is a good group of kids, with a real potential as they advance through the program. Keep watching here for updates....
---
(Whitestown listed first)
Games for December, 1999
| Date | Time | Team | Location | Score | Shots |
| --- | --- | --- | --- | --- | --- |
| Dec 19 | 3:30p | New Hartford | home | L 4-5 | 9-10 |
| Dec 26 | 8:00a | New Hartford | New Hartford | W 3-2 | 12-13 |
Games for January, 2000
Date
Time
Team
Location
Score
Shots
Jan 1
2:30p
Utica Mites
home
L 1-3
8-8
Jan 15
7:45a
New Hartford
home
W 4-0
11-5
Jan 15
10:00a
Clinton1
home
W 6-3
16-4
Jan 16
8:00a
Clinton
Clinton
W 2-0
9-8
Jan 22
7:45a
Hamilton
home
L 2-9
7-16
Jan 23
7:00a
Hamilton
Colgate
(Starr Rink)
L 2-10
7-23
Jan 30
7:00a
Rome
Rome




1 (Note: Scrimmage-2 periods only)
Games for February, 2000
| Date | Time | Team | Location | Score | Shots |
| --- | --- | --- | --- | --- | --- |
| Feb 5 | 6:30a | New Hartford | home | T 4-4 | 13-10 |
| Feb 19 | 10:15a | Clinton | home | W 2-0 | 10-2 |
| Feb 20 | 11:30a | Clinton | Clinton | W 4-1 | 26-2 |
| Feb 26 | 8:00a | New Hartford | New Hartford | | |
Games for March, 2000
| Date | Time | Team | Location | Score | Shots |
| --- | --- | --- | --- | --- | --- |
| Mar 18 | 8:00a | New Hartford | New Hartford | W 4-3 | 14-7 |
---
Tournaments
Whitestown Mite Tournament
Whitestown, NY
February 11-13, 2000
Date
Time
Team
Location
Score
Shots
2/11/00
1:30p
Clinton
home
W 4-0
9-1
2/12/00
8:00a
N.Berkshire
home
L 1-10
3-15
2/13/00
9:00a
Rochester
home
L 0-16
3-17
Little Caesar's
Mite Tournament
Oswego, NY
March 3-5, 2000
Date
Time
Team
Location
Score
Shots
3/3/00
7:00p
Auburn
Fort
L 0-10
4-18
3/4/00
7:00a
Oswego
Kingsford
L 0-8
2-32
3/4/00
12:00n
Salmon River
Fort
L 1-7
10-27
New Hartford Mite Tournament
New Hartford, NY
March 24-26, 2000
Date
Time
Team
Location
Score
Shots
3/24/00
4:00p
New Hartford
New Hartford
W 3-2
N/A
3/25/00
10:4a
MidState
New Hartford
T 5-5
14-22
3/26/00
7:00a
Clinton
New Hartford
W 4-0
9-7
Championship Game
3/26/00
11:45a
Clinton
New Hartford
W 2-1 (OT)
9-12

New Hartford Mite Tournament 1st Place