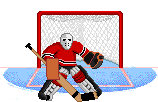 Whitestown Squirt Travel "B" Team
1999-2000 Game Schedule and Scores
Final Update 3/26/00 (All scores and shots unofficial)
---
Welcome to the Whitestown Squirt Travel "B" Page !!! Our players are mostly second year Squirts, and are a good group of kids. Most of this year's team suffered through a tough season last year, but they all have shown tremendous progress in their game skills and fundamentals. Winning with humility, or losing with dignity, the players always give a strong showing on the ice.
This is indeed a special group of kids. They all get along well, no fights or arguments, they work to build each other up, and they don't criticize or complain. We have seen some beautiful examples of teamwork, and all the parents are very proud of our children...not only on the ice, but off the ice as well.
As I tell my son, winning or losing is only a byproduct of how hard you work on the ice, and how hard you encourage those around you. This promises to be an exciting and thrilling season...
---
(Whitestown listed first)
Games for October, 1999
| | | | | | |
| --- | --- | --- | --- | --- | --- |
| Date | Time | Team | Location | Score | Shots |
| Oct 2 | 10:15a | Lysander | home | L 1-3 | 12-23 |
| Oct 3 | 3:15p | Lysander | Lysander | L 0-2 | 18-20 |
| Oct 16 | 10:15a | New Hartford | home | W 9-0 | 30-14 |
| Oct 17 | 9:00a | Syracuse Stars (Sq 3) | home | L 3-6 | 8-18 |
| Oct 23 | 9:00a | Oswego | home | no show | |
| Oct 24 | 9:30a | Oswego | Oswego (Romney) | W 4-3 | 19-13 |
| Oct 30 | 10:15a | Ithaca | home | W 5-1 | 18-14 |
| Oct 31 | 9:45a | Ithaca | Ithaca (Cass Park) | L 0-8 | 11-31 |
Games for November, 1999
| | | | | | |
| --- | --- | --- | --- | --- | --- |
| Date | Time | Team | Location | Score | Shots |
| Nov 6 | 10:15a | Capital Y (B1) | home | W 4-1 | 12-15 |
| Nov 7 | 10:15a | Cazenovia | Morrisville | W 3-2 | 19-10 |
| Nov 13 | 9:00a | Clinton | home | W 8-0 | 41-4 |
| Nov 14 | 9:30a | Binghamton | Binghamton (Polar Cap) | W 4-2 | 28-12 |
| Nov 20 | 10:15a | Oswego | home | L 3-4 | 12-12 |
| Nov 21 | 8:00a | Oswego | Oswego (Romney) | W 3-2 | 18-12 |
Games for December, 1999
| | | | | | |
| --- | --- | --- | --- | --- | --- |
| Date | Time | Team | Location | Score | Shots |
| Dec 4 | 10:15a | Binghamton | home | W 5-2 | 21-12 |
| Dec 5 | 9:15a | Geneva | Geneva | L 5-7 | 21-14 |
| Dec 11 | 12:45p | Capital Y (B1) | Albany County | T 3-3 | N/A |
| Dec 12 | | | House Tournament | no home ice | |
| Dec 18 | 2:30p | Clinton | home | W 10-0 | 12-5 |
| Dec 19 | 8:00a | Clinton | Clinton | W 5-1 | 13-13 |
| Dec 19 | 12n | Rome | home | W 4-1 | 20-4 |
| Dec 25 | | Christmas | | | |
| Dec 26 | | Holiday | | | |
Games for January, 2000
Date
Time
Team
Location
Score
Shots
Jan 1


New Year's
Holiday
Jan 2
9:15a
New Hartford "A"
home
L 2-5
10-10
Jan 8
10:00a
Auburn
home
W 8-1
22-7
Jan 9
9:30a
Auburn
Casey Park
T 2-2
40-19
Jan 9
4:15p
Rome
Rome
W 7-6
31-25
Jan 15
Watertown Snowtown Tournament
Jan 16
Watertown Snowtown Tournament
Jan 22
10:15a
Camillus
home
W 6-1
25-6
Jan 23
9:45a
Camillus
Camillus
W 6-2
20-5
Jan 29
12:50p
Troy
Frear Park
W 4-2
15-20
Jan 30




Travel tourn.
no home ice


Games for February, 2000
Date
Time
Team
Location
Score
Shots
Feb 5
Rochester Tournament
Feb 6
Rochester Tournament
Feb 12
9:00a
Capital Y (B1)
Albany County
W 7-2
19-19
Feb 12
2:30p
Troy
HVCC
T 4-4
16-11
Feb 13




Mite Tourn. No Home Ice




Feb 19
Cazenovia Tournament
Feb 20
Cazenovia Tournament
Feb 25
8:45a
New Hartford
New Hartford
W 4-0
21-12
Feb 26
4:00p
Troy
home




Feb 27
3:30p
Binghamton
home




Games for March, 2000
Date
Time
Team
Location
Score
Shots
Mar 4
10:15a
Troy
home
N/A
N/A
Mar 5
??
Valley
Burnet Park
N/A
N/A
Mar 10
UNYHL Championship
Mar 11
UNYHL Championship
Mar 12
UNYHL Championship
Mar 17
Fulton IceMelt Tournament
Mar 18
Fulton IceMelt Tournament
Mar 19
Fulton IceMelt Tournament
---
Tournaments
Shawn Grady Memorial Tournament
Whitestown, NY
November 26-28, 1999
Date
Time
Team
Location
Score
Shots
Nov 26
10:15a
Clinton
Whitestown
W 11-2

27-6
Nov 26
3:45p
Rome
Whitestown
W 7-1
20-3
Nov 27
9:00a
New
Hartford
Whitestown
W 9-0
30-15
Championship Game
Nov 28
9:00a
Rome
Sage Rink
Hamilton College
W 5-3
15-9
Shawn Grady Tournament First Place
Snowtown Hockey Tournament
Watertown, NY
January 14-16, 2000
Date
Time
Team
Location
Score
Shots
Jan 14
7:20p
Watertown
Watertown
W 10-0
N/A
Jan 15
10:10a
Canton
Watertown
W 6-1
N/A
Jan 16
10:00a
Alex Bay
Watertown
W 5-3
N/A
Championship Game
Jan 16
3:15p
Alex Bay
Watertown
W 6-0
N/A

Snowtown Tournament 1st Place
Rochester Squirt Classic
Rochester, NY
February 4-6, 2000
Date
Time
Team
Location
Score
Shots
Feb 4
5:30p
Ithaca
Lakeshore
Rink
L 0-6
N/A
Feb 5
1:30p
Rochester
Rene
Lakeshore
Rink
L 1-3
8-22
Feb 5
7:15p
Syracuse
Stars
Lakeshore
Rink
L 3-9
7-17
Feb 6
9:00a
Buffalo
Regals
Lakeshore
Rink
L 0-3
7-19
Cazenovia Invitational Tournament
Morrisville, NY
February 19-20, 2000
Date
Time
Team
Location
Score
Shots
Feb 19
8:15a
Brockport
SUNY Iceplex
W 3-2

13-12
Feb 19
3:30p
Cazenovia
SUNY Iceplex
W 4-3
8-7
Feb 20
9:00a
Syracuse Stars
SUNY Iceplex
L 1-4
14-25
Championship Game
Feb 20
3:30p
Syracuse Stars
SUNY Iceplex
L 2-5
15-24
Cazenovia Invitational Tournament Second Place
UNYHL Championships
Whitestown, NY
March 10-12, 2000
Date
Time
Team
Location
Score
Shots
March 10
12:30p
Camillus
Whitestown
W 4-0
32-8
March 11
8:00a
Lysander
Whitestown
L 3-4
13-16
March 11
1:30p
Binghamton
Whitestown
W 3-1
12-9
Crossover Game
March 12
9:30a
Ithaca
Whitestown
L 2-5
7-11

Fulton IceMelt Tournament
Fulton, NY
March 17-19, 2000
Date
Time
Team
Location
Score
Shots
Mar 17
9:30a
MidState T3
Fulton
L 3-7
5-20
Mar 17
8:15p
Fulton
Fulton
W 7-3
16-25
Mar 18
4:50p
Lysander Select
Fulton
T 3-3
N/A

Bold=Q games for UNYHL