Allyn Rink (new rink)
Skaneateles Community Center
Austin Park (old rink)
Skaneateles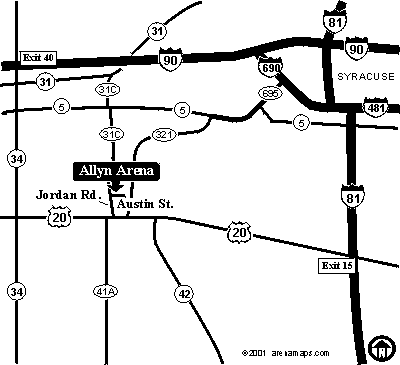 ---
Directions from Utica:
Take the NY Thruway Westbound (I-90) to exit 39. After the toll booth, take I-690 Eastbound to NY 695 (Auburn Exit). Take NY 695 to the end. Stay on the right for NY 5. follow NY 5 West approx 2-3 miles to NY 321 (a blinking yellow light at the top of the hill, and two gas stations).
Turn left onto NY 321. Continue on NY 321 into Skaneateles. Look for the sign for the Village of Skaneateles, and the Community Center (Allyn Rink) will be just past the sign on the right.
For the old rink (Austin Park), continue on 321, past the park, and turn right onto Austin St. Austin Park rink will be on the right.
Driving time from Utica, approx. 1 1/2 hrs.
---