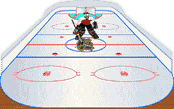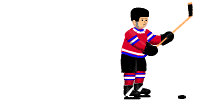 Whitestown B Mite Team
2000-2001 Game Schedule and Scores
Last Update 3/18/01 (All scores and shots unofficial)
---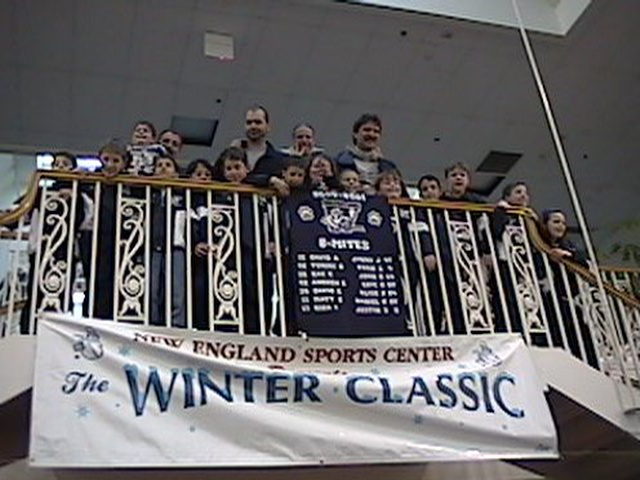 This is Tommy's second year of competitive skating. We are having some difficulty scheduling games, as our ice times are very early on Saturday mornings.
Most of the team has moved up from last year's C mite team. They are an excellent group of kids, and get along exceptionally well (as do the parents !!) This will truly be a fun year...
Mite parents know that this is truly hockey "for the FUN of it". Skaters are learning to sharpen up the four basic skills of skating, passing, puck handling and shooting. This is a very coachable group of children, and possess some solid basic skating skills.
Our coach is Duane Isenberg, and along with being a good coach on the ice, he has a strong heart, and does many of the little extras for the kids to keep the interest up, and the enjoyment strong.
Keep watching here for game updates.....
---
(Whitestown listed first)
| Date | Time | Team | Location | Score | Shots |
| --- | --- | --- | --- | --- | --- |
| | | | | | |
| Sat, Nov 4 | 7:00a | Auburn B2 | Auburn | W 9-0 | 40-3 |
| Sun, Nov 12 | 7:00a | Auburn B2 | Auburn | W 6-1 | 33-9 |
| Sat, Nov 18 | 7:45a | Auburn B2 | home | W 7-0 | 20-10 |
| Sat, Nov 25 | 7:00a | New Hartford | New Hartford | | |
| Sun, Nov 26 | 4:45p | Schenectady | Schenectady County Rec Ctr | L 0-16 | 4-21 |
| | | | | | |
| Sat, Dec 2 | 7:45a | New Hartford | home | W 7-1 | 15-8 |
| Sun, Dec 3 | 8:15a | Auburn B1 | Auburn | W 2-0 | N/A |
| Sat, Dec 9 | 7:45a | Clinton | home | W 2-1 | 16-12 |
| Sun, Dec 10 | 11:00a | Fulton | Fulton | L 2-5 | 27-14 |
| Sat, Dec 16 | 7:45a | Auburn B1 | home | W 8-1 | 22-5 |
| Sun, Dec 17 | 8:15a | Clinton | Clinton | L 1-2 | 19-9 |
| Sat, Dec 23 | 7:45a | Camillus | home | W 5-2 | |
| Sun, Dec 24 | 6:45a | New Hartford | New Hartford | W 8-1 | 30-8 |
| | | | | | |
| Sat, Jan 6 | 7:45a | Camillus | home | W 5-1 | 21-8 |
| Sat, Jan 13 | 5:45p | Schenectady | Schenectady County Rec Ctr | | |
| Sun, Jan 14 | 12:00n | Hamilton | Suny Iceplex-Morrisville | L 2-5 | 13-26 |
| Sat, Jan 20 | 7:45a | New Hartford | home | W 4-1 | 23-2 |
| Sun, Jan 21 | 7:00a | New Hartford | New Hartford | W 5-2 | |
| | | | | | |
| Sat, Feb 3 | 7:45a | Auburn B1 | home | T 3-3 | 11-9 |
| Sun, Feb 4 | 7:00a | Auburn B1 | Auburn | NO | SHOW |
| Sat, Feb 10 | 7:45a | Rome C | home | W 13-0 | 37-2 |
| Sun, Feb 11 | 3:45p | Rome C | Rome | W 9-0 | 28-7 |
| Sat, Feb 17 | 7:45a | Hamilton | home | L 0-5 | 2-12 |
Tournaments
Troy NY Cup Tournament
Troy, NY
December 28-30, 2000
Thu, Dec 28
2:30pm
@HVCC
Clifton Park A
L 0-5
2-37
Fri, Dec 29
9:20am
@Frear Park
Troy
L 0-9
6-30
Fri, Dec 29
6:20pm
@Frear Park
Ithaca A
L 1-8
6-16
Fulton Mite Tournament
Fulton, NY
January 26-28, 2001
Fri, Jan 26
6:50pm
Cortland Travel
L 2-4
11-19
Sat, Jan 27
9:40am
Valley Travel
L 0-2
15-15
Sat, Jan 27
6:30pm
Fulton Travel
L 0-5
22-27
Central Mass Winter Classic
Marlborough, Massachusetts
February 23-25, 2001
Fri, Feb 23
7:00am
WHK Hawks
L 0-6
1-21
Fri, Feb 23
3:10pm
Pawtucket Pirates
W 2-1
25-6
Sat, Feb 24
9:50am
Tri-Valley
W 3-2
17-12
Tri-Town Mite B Tournament
Morrisville/Whitestown, NY
March 1-4, 2001
Thu, Mar 1
5:00pm
Clinton Mite B
(@Whitestown)
W 5-2
17-7
Sat, Mar 3
10:00am
Hamilton Mite A
(@SUNY Iceplex)
L 0-8
7-20
Sat, Mar 3
4:00pm
New Hartford Mite B
(@SUNY Iceplex)
W 11-0
27-6
Championship Game
Sun, Mar 4
8:30am
Hamilton Mite A
(@Whitestown)
L 1-5
6-25
Tri-Town Tournament
Second Place
Pepsi Tournament
Buffalo, NY
March 9-11, 2001
Fri, Mar 9
3:15pm
Gravenhurst, Ontario
L 2-0
N/A
Sat, Mar 10
11:00am
Monroe County
W 3-0
N/A
Sun, Mar 11
12:15pm
S. Buffalo
L 4-2
N/A
(Tommy did not make the road trip)
New Hartford Mite Tournament
New Hartford, NY
March 13-18, 2001
Tue, Mar 13
6:45pm
New Hartford
W 8-0
37-2
Sat, Mar 17
6:45am
Skaneateles
W 5-0
35-16
Sat, Mar 17
5:45pm
Midstate
W 12-0
25-4
Championship Game
Sun, Mar 18
2:15pm
New Hartford
W 5-1
29-2
New Hartford Mite Tournament
First Place